Infrastructure
The school building has been constructed with modern architecture . It has a large and airy building with two floors. It is spread to an area of 3 acres at Nanda Nagar.


The whole building is provided with a powerful generator and invertors .


The school ensures 100% pure and cold drinking water facility for students and staff.


There is a large playground with a basket ball court.


It is also equipped with variety of swings for kids to enjoy indoor game facility is also provided to students .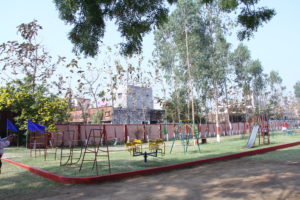 We also have well furnished science lab , computer lab, audio visual rooms & library.


We also have a well furnished medical room where first aid can be provided to a student in case of any requirement.